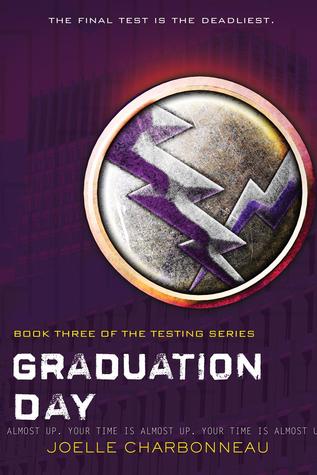 I have written about The Testing when I read it last year.  In fact, it was one of my favorite reads of 2013.  So when I wandered through the bookstore and stumbled upon the final book of the series, I couldn't believe I had somehow missed its release.  After all, this series is one of my favorite YA SF series to have been written in the past few years. That night I anxiously opened the pages, ready to get sucked back into the world.
To call myself eager to read this would be an understatement, I couldn't wait to see where the author would finish the story, how Cia would handle everything put on her through the other two books.  And yet, the book was not as exciting as the other two.  The author would get a bit descriptive when ever there were emotions to deal with, which there was constantly, and I longed for the action of the first two books.  Still, the series wrapped up really well.  The ending was definitely worth the read and I would recommend this series still as one of my favorite SF series.
Bottomline:  This book is a great addition to any classroom library 5th grade and up, it does have violence/killing in it so it is for a more mature reader.
From Goodreads:
n book three of the Testing series, the United Commonwealth wants to eliminate the rebel alliance fighting to destroy The Testing for good. Cia is ready to lead the charge, but will her lethal classmates follow her into battle?
She wants to put an end to the Testing
In a scarred and brutal future, The United Commonwealth teeters on the brink of all-out civil war. The rebel resistance plots against a government that rules with cruelty and cunning. Gifted student and Testing survivor, Cia Vale, vows to fight.
But she can't do it alone.
This is the chance to lead that Cia has trained for – but who will follow? Plunging through layers of danger and deception, Cia must risk the lives of those she loves–and gamble on the loyalty of her lethal classmates.
Who can Cia trust?
The stakes are higher than ever-lives of promise cut short or fulfilled; a future ruled by fear or hope–in the electrifying conclusion to Joelle Charbonneau's epic Testing trilogy. Ready or not…it's Graduation Day.
The Final Test is the Deadliest!