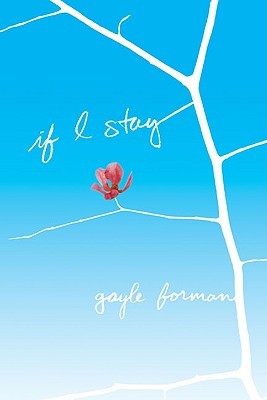 Oh dear, this book looked good on the shelf as I randomly selected it last week.  And so I started reading it, not sure what to expect, and then I realized what was happening, but it was too late.  I was already sucked in, I was already crying and so I stayed in bed, read the book, grabbed the kleenex and then promptly ordered the sequel.  I didn't think this book would get me.  I didn't think a tale of a girl deciding whether to stay alive or die would make me cry so much.  Chalk it up to lack of sleep, too many hormones, or just plain needing a good cry, but the truth is, the book just hooked me.
As a parent this book was hard to read, as a former 16 year old once upon a time this book was hard to read.  As a parent to 4 future 16 year olds this book had to be read.   And so I place it into my classroom library with a pack of kleenex.  I hope someone else reads it so we can discuss it and discuss whether we would stay or go.  Whether we could face a world where our world was completely changed.
Bottomline: Hard book to read and definitely for more mature kids, I would say 6th or 7th grade and up.
From Goodreads:
Just listen, Adam says with a voice that sounds like shrapnel.
I open my eyes wide now.
I sit up as much as I can.
And I listen.
Stay, he says.
Choices. Seventeen-year-old Mia is faced with some tough ones: Stay true to her first love—music—even if it means losing her boyfriend and leaving her family and friends behind?
Then one February morning Mia goes for a drive with her family, and in an instant, everything changes. Suddenly, all the choices are gone, except one. And it's the only one that matters.