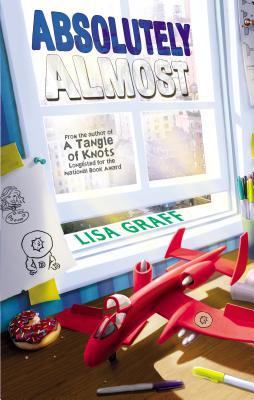 Oh my.  Another to read, to add, to love book discovered by me this summer thanks to The Nerdy Book Club.  I have not read "A Tangle of Knots," which is the other popular book by Lisa Graff but am now adding it to my to read pile.  Absolutely Almost was simply absolutely fabulous.  I could hear the conversations that would spring up from this book, I could imagine the gasps my students would share.  I could imagine how it would change our perspective on the world.  I could see this as a Global Read Aloud book for 2015.  Yup, it is that good.
Why?  Because it takes what could be a fairly simple story and brings us right into it.  The main character Albie is not extraordinary and in it is here that story's power lies.  We can relate.  We can feel the joy and the pain.  We are right there navigating with him.  We cheer for him and we hope for him.  This story will be recommended to all kids I meet and I teach.  I think it will be right up there with "Wonder."
Bottomline:  Must add to any 3rd grade and up, but I will use this in 7th grade as well.
From Goodreads:
Albie has never been the smartest kid in his class. He has never been the tallest. Or the best at gym. Or the greatest artist. Or the most musical. In fact, Albie has a long list of the things he's not very good at. But then Albie gets a new babysitter, Calista, who helps him figure out all of the things he is good at and how he can take pride in himself.