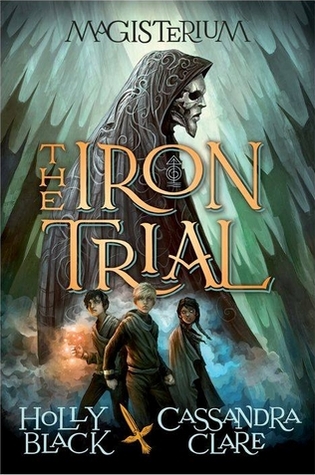 I remember the moment I heard about this book; I was with my last batch of 5th graders, pen in hand, watching Scholastic's preview of fall books.  I think I may have yelped when I saw this book, I definitely go excited, I definitely wrote it down.  When I then saw the title on Netgalley, I felt it was meant to be.  I was meant to read this book now, drop everything and read, and not have to wait until September.
Cassandra Clare is one my favorite series authors.  Her Mortal Instruments series consistently makes my top recommended lists.  Holly Black with her wide repertoire of writing blew me away with "The Coldest Girl in Coldtown" and has not ceased to amaze since then.  These two combined, yes please.
I can see why people are comparing it to Harry Potter.  I can also see the comparisons to Mortal Instruments.  And yet…I loved this book.  I loved, loved, loved this book.  I loved the characters, the plot, and the seeds it planted for the further series.  If you like fantasy, this is a must add to the classroom library.  It is a bit violent but less so than Hunger Games.  
Bottomline:  A great read for 5th grade and up.  
From Goodreads:
From two bestselling superstars, a dazzling and magical middle-grade collaboration centering on the students of the Magisterium, an academy for those with a propensity toward magic. In this first book, a new student comes to the Magisterium against his will — is it because he is destined to be a powerful magician, or is the truth more twisted than that? It's a journey that will thrill you, surprise you, and make you wonder about the clear-cut distinction usually made between good and evil