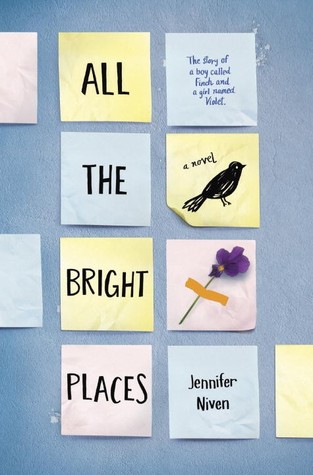 I was lucky enough to get to read an ARC of this book through Netgalley.  Not knowing what to expect I actually read this book this summer and then thought I wrote a review about it.  Boy, was I surprised that I didn't when it came time to link it as a Global Read Aloud contender.  Because that's exactly what this book is; it is a book meant for others to hear and to start conversations about suicide and what it means to feel like no one in the world understands you.   While it starts in a quiet way, it also sneaks up on you and all of a sudden you cannot put it down, you have to finish it and when you do the emotions start.
While this is definitely a more mature book, I would feel comfortable handing it to some of my 7th graders because I think some of them would really connect not just the story but the way the characters develop and the identities they try on.  I don't know how the author took such a hard topic, and one that many of us have experienced firsthand, and spun a beautiful story around it, but she did, and my reading life is better because of it.
Bottomline: 7th grade and up depending on your students, more mature, but oh so very beautifully written.  Global Read Aloud contender for 2015.
From Goodreads:
Theodore Finch is fascinated by death, and he constantly thinks of ways he might kill himself. But each time, something good, no matter how small, stops him.
Violet Markey lives for the future, counting the days until graduation, when she can escape her Indiana town and her aching grief in the wake of her sister's recent death.
When Finch and Violet meet on the ledge of the bell tower at school, it's unclear who saves whom. And when they pair up on a project to discover the "natural wonders" of their state, both Finch and Violet make more important discoveries: It's only with Violet that Finch can be himself—a weird, funny, live-out-loud guy who's not such a freak after all. And it's only with Finch that Violet can forget to count away the days and start living them. But as Violet's world grows, Finch's begins to shrink.