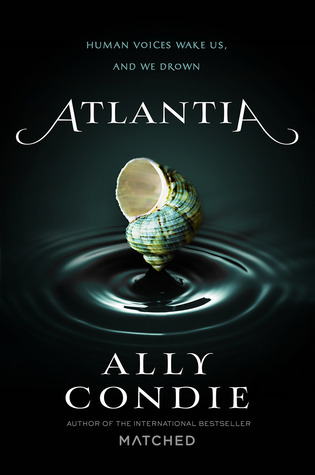 I so wanted to love this, in fact, I was grasping for words when my husband asked me whether I was reading a good book.  I finally told him it was a great story but there seemed to be too many words mixed in.  Too much repetition of nonessential things and too little build up of the different relationships, yet within those words was  a gem of a story.  A likable character and it was only one book, not a trilogy which was also oddly satisfying.
So while this does not meet "Matched" it is not a lost cause either.  Many of my 7th grade girls will like it, and Ally Condi will continue on as someone whose books I cannot wait to read.
From Goodreads:
Can you hear Atlantia breathing?
For as long as she can remember, Rio has dreamt of the sand and sky Above—of life beyond her underwater city of Atlantia. But in a single moment, all her plans for the future are thwarted when her twin sister, Bay, makes an unexpected decision, stranding Rio Below. Alone, ripped away from the last person who knew Rio's true self—and the powerful siren voice she has long hidden—she has nothing left to lose.
Guided by a dangerous and unlikely mentor, Rio formulates a plan that leads to increasingly treacherous questions about her mother's death, her own destiny, and the complex system constructed to govern the divide between land and sea. Her life and her city depend on Rio to listen to the voices of the past and to speak long-hidden truths.