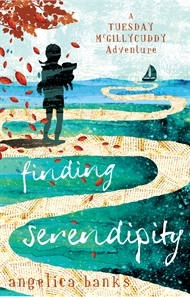 I received this book as an advance copy with the specific purpose of looking at it as a possible Global Read Aloud contender and boy was I happy I did.  Angelica Banks, who is really two authors, Heather Rose and Danielle Wood, has spun a masterful tale of adventure and finding ones place.  While there are many things that I love about the book, it was how clearly I knew who I could pass this book on to.  Which students will read this book and make it one of their favorites.
The book offers adventure, magic, and a heroine who may not always know the answer but continues toward The End no matter how hard her journey may become.  I loved the message of the book and cannot wait to hand it to students.
Bottomline: A must add for any classroom 3rd grade and up.  This one is a Global Read Aloud contender for 2015.
From Goodreads:
Tuesday McGillycuddy loves stories – and her mother is a writer. A very famous writer, who has locked herself away in her writing room to finish the final book in her best-selling series for children. But when Tuesday knocks on her door, she discovers her mother is missing!
In search of Serendipity, Tuesday and her faithful dog Baxterr soon find themselves on a very dangerous mission. They enter the magical world where stories come from, a mysterious and unpredictable world, full of real danger and heart-stopping adventure.
With the help of pint-sized heroine Vivienne Small, Tuesday will need all her wit, courage, perseverance and imagination in order to get to The End and be reunited with the people she loves.