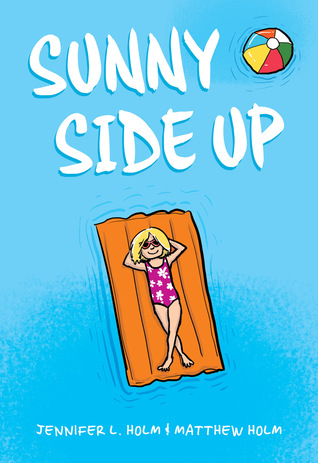 This week was the week of incredible books seemingly dropping into my hands.  The first one came in the form of a surprise package from one of my favorite authors; Jenni Holm.  Yes THE Jenni Holm who wrote the Babymouse series (along with her brother) and The Fourteenth Goldfish.
Their new graphic novel; Sunny Side Up, is a sneaker.  As in it sucks you in and then sneaks up on you.  It lures you in with its mystery and then hits you hard at the end leaving you just a little bit dumbfounded that someone so brilliantly tackled a hard subject in a graphic novel and still made it accessible to elementary kids.  I wanted to ruin back to my old elementary school and hand it to all of my colleagues.  It's good.  really good and yes, you should pre-order it for 3rd grade and up.
From Goodreads:
Following the lives of kids whose older brother's delinquent behavior has thrown their family into chaos, Sunny Side Up is at once a compelling "problem" story and a love letter to the comic books that help the protagonist make sense of her world.
The other book was also an incredible surprise, this time from Scholastic when we placed our final book order for the year.  This book was added to the order because they felt that many teachers need it in their library and I couldn't agree more,  When we speak about needing diverse book,  this book is trying to fill a gaping hole for students who at a young age work through gender identity.  So easy to read with a great story,this book has been needed for so many years, I am so glad it is finally here.
From Goodreads:
BE WHO YOU ARE.
When people look at George, they think they see a boy. But she knows she's not a boy. She knows she's a girl.
George thinks she'll have to keep this a secret forever. Then her teacher announces that their class play is going to be Charlotte's Web. George really, really, REALLY wants to play Charlotte. But the teacher says she can't even try out for the part . . . because she's a boy.
With the help of her best friend, Kelly, George comes up with a plan. Not just so she can be Charlotte — but so everyone can know who she is, once and for all.