Yesterday, I had the incredible fortune to keynote on creating passionate reading environments.  In this keynote I discussed, amongst many things,  the need for all kids to be able to find themselves in our libraries, which is what the #WeNeedDiverseBooks movement also centers around.  Three books stand out for me right now in that they bring a different type of diversity to our elementary and middle school libraries that we maybe were afraid of before.  So please, if you invest in three new books this summer, please consider these three.
My Opinion:  George is finally available August 25th and is a must add to any classroom, 4th grade and up.  When we say we need diverse books, it is a book like this that we need to have in our classrooms.
Age Range:  4th and up.
Summary:
When people look at George, they think they see a boy. But she knows she's not a boy. She knows she's a girl.
George thinks she'll have to keep this a secret forever. Then her teacher announces that their class play is going to be Charlotte's Web. George really, really, REALLY wants to play Charlotte. But the teacher says she can't even try out for the part . . . because she's a boy.
With the help of her best friend, Kelly, George comes up with a plan. Not just so she can be Charlotte — but so everyone can know who she is, once and for all.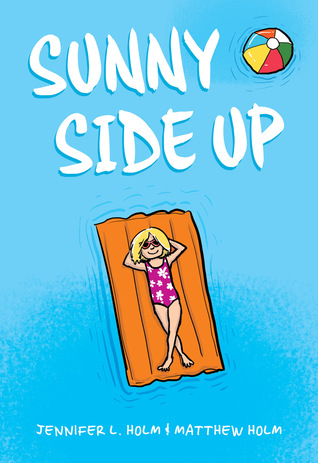 My Opinion:  Oh Sunny Side Up, I adore you.  An incredible example of why graphic novels can be so powerful.  I know many, many kids who will love this book.
Age Range:  4th and up.
Summary:
Following the lives of kids whose older brother's delinquent behavior has thrown their family into chaos, Sunny Side Up is at once a compelling "problem" story and a love letter to the comic books that help the protagonist make sense of her world.
My Opinion:  Ruby on the Outside is a book I wish I had had several years ago when I had a student in a similar situation and I felt at a loss for how to help her through it.  This book takes something so incredibly hard to go through and makes it accessible to all students.  The reading level and the story line means that students in 3rd and 4th grade can easily read this book, but it is also suitable for middle schoolers.
Summary:  Eleven-year-old Ruby Danes is about to start middle school, and only her aunt knows her deepest, darkest, most secret secret: her mother is in prison.
Then Margalit Tipps moves into Ruby's condo complex, and the two immediately hit it off. Ruby thinks she's found her first true-blue friend—but can she tell Margalit the truth about her mom? Maybe not. Because it turns out that Margalit's family history seems closely connected to the very event that put her mother in prison, and if Ruby comes clean, she could lose everything she cares about most.